Travel Tips
Documents You Cannot Leave Home Without
You've marked your holidays, booked your hotels and now it's time to pack. Whether it's your first time of exploring the wide world or you've been living out of a suitcase. Travel packing can always get the best and most efficient stressing about forgetting something. Well, stress no more as here are some of the most important tips before you set out on your amazing journey and stack up those experiences.
Step 1: Collect & Make Copies of all Important Travel and Personal Documents
Start by getting a document organizer and making extra copies of your important documents mentioned below. Leave a copy in your luggage and carry bags but hold your original within the organizer at all times. What documents your organizer must hold:
Passport and Visa(s) (Check Dates of Expiration)
Student ID Card (If you have one)
Cash and Credit Card(s) (Inform your bank about your Travel Plans)
Travel Insurance Info
Hotel and/or Tour Contact Information
Emergency Contacts and Addresses
Personal ID like a Driving License
Frequent Flyer Card(s) and other loyalty program cards such as a hotel or hostel
Health Insurance Cards and/or Document(s)
Copy of Reservations and Itineraries
Transportation Tickets and Boarding Passes (Plane, Train, Bus, Car, etc.)
Your Home Country's Consulate Contact Details
Voila, now that all your documents are stacked up and organized it's time to jump onto the next checklist. Keep reading for the next step to ease all your travel packing head aches and worries.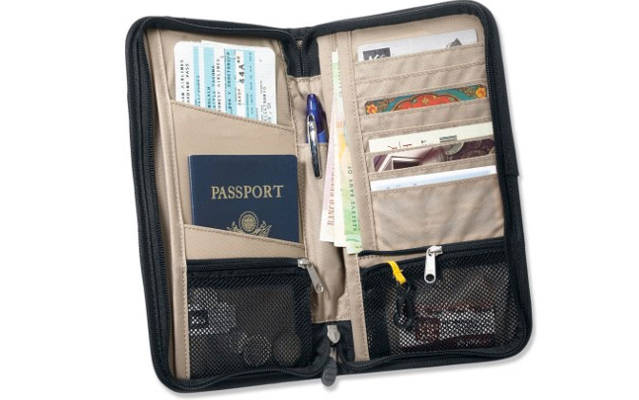 Mini-Survival Bag
Now that your documents are safely accounted for, let's pack the next organizer, a small bag actually. This bag is the carry-on bag or better known as Cabin bag for all your personal items. We are all slaves of the techno-world and cannot live without some of our gadgets nor can some of you sleep without our socks or eye-masks. So, on your packing agenda we bring you the mini-essentials while traveling and not needing to run to your big luggage everytime for your lotion and chargers. But do remember, this is your carry-on bag and not your luggage bag, so keep it light and breezy.
Step 2: Must Haves in Your Personal Item Carry-on Bag
Mobile, Charger
Headphones
Electrical Converters and Adapters
Travel Dairy and Pen
Scarf or Shawl or a Light Jacket
Wet Wipes and Tissue Roll
Lense Case & Lotion
Empty Water Bottle
Basic Medicines and Band-Aids
Hand Towel
Hair Brush
Ladies keep your extras of Sanitary Essentials in your Handy Bag
iPad and Charger
Camera, Extra Memory Card, and Charger
Plug Point Socket (Check your destination's Electrical Specifications)
Eye Mask, Ear Plugs, Socks
Hand sanitizer
Sun Glasses and/or Spectacles with their Case
Lose Cash
Some Munchies or Nutrition Bars
An Extra pair of Clothes for long hours during travel
Tooth Brush & Paste
Chocolates & Mint Candy
Easy and light, you are now ready for the long or short flight. Don't forget to dress in your most comfortable pair of shoes and clothes, after all comfort never goes out of style. We are ready with and done with stage 2 of packing and comes the big fat luggage packing time in step 3. Hold on and don't stress yourselves, we have all the essentials for the big bag coming soon..